I recently turned 28 and questions about where I am, what have I achieved so far, what comes next, pop up more and more in my head every single day. For me, as for many other people, accepting and loving myself proves to be a long journey. Thankfully I have started it a couple of years back, and coaching helped me get centred and focused. Every now and then a million thoughts and questions invade my mind, and make the journey very challenging.
Are you happy with your job, is this what you want to do?
Are you fit enough?  You should try going more to the gym.
You haven't been to any new countries lately, when are you gone travelling?
Your friends miss you, try spending more time with them…
Don't forget to plan a vacation with your family, they are the ones who matter most…
Cook more and eat healthier… 
Volunteer and try to take advantage of as many opportunities as you can..
When are you going to put more time into finding a man to love, and who loves you back?
Are you happy?
This is a small part of the tornado that I try to calm down … I would dare say that I see many of my friends in this situation. All these questions lead to confusion, wanting to do more , to have more, to travel more, everything coming next to the word more…There will always be more out there, but at the end of the day is my decision if I want to stay 2h more at work, take a walk with a friend, or Skype my mother.
It's easy to get caught up in this game.. Always wanting more, and at the end of the day I was so exhausted I couldn't even enjoy the results of all my hard work. I am definitely an workaholic, but I am treating myself. I have learned that I don't need to spend a weekend sleeping after putting all my energy into work, and then going to the gym every single day, because yes, in my mind , one should also have the perfect body …
After a year of having a crazy lifestyle, wanting to reach perfection in every aspect of my life, I realize that it isn't what makes me happy, and that the love and connection I receive are not determined by that. I learned that is ok not to go to the gym every day, that you can answer that one last email also the next day in the morning, that watching a movie is not wasting your time, that having an ice cream won't make you fat, and that your friends will understand if you say no to a night out, because you need to catch up with sleep.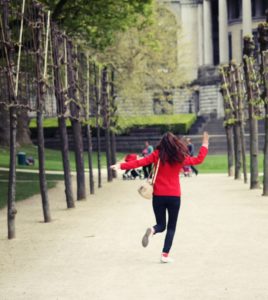 Needless to say the journey of accepting myself is ongoing, but instead of putting myself under constant pressure, I now chose to give myself credit for every little step I take, and get away from the anxiety and fear of always wanting to be perfect. I still believe a human being has endless potential of achieving excellence, what I now understand is that I don't have to reach excellence in a day, and when it starts making me feel miserable instead of happy, something is wrong and the plan needs to be redesigned 🙂
If while reading my article you heard yourself saying "been there, done that", "oh, I hear you sister", then I hope it is helpful for you to know that you are never walking alone, and that it's ok to ask yourself so many questions as long as they help you reach the next milestone in your self-acceptance journey. So, let's keep walking together 🙂
And as Leo Buscaglia beautifully says: "Love yourself—accept yourself—forgive yourself—and be good to yourself, because without you the rest of us are without a source of many wonderful things."
Please follow and like us: