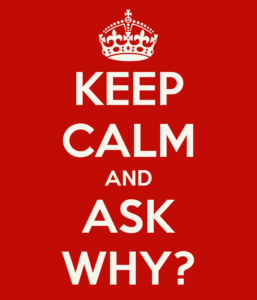 WHY?
So you want a new job, or to change something in your life. When you talk about it with other people you just say exactly that; "I want a new job…"
Somehow it just seems out of reach, intangible and you just can't seem to find a way to make it happen.
 WHY?
Exactly…
Everyone wants things, or changes. The difference between those who make those changes, and those who don't is their WHY.
WHY Do you want this?
WHY will it make a difference?
WHY will this improve your life?
Think about it – when you get up in the morning and drink your glass of lemon water, or coffee, it is not simply because you want to drink something. WHY you pour this liquid down your throat is to HYDRATE, to ENERGISE, to WAKEUP, so you can start your day in Peak state and SMASH it right through to dinner!
Coffee tasting a little better now you know WHY you drink it?
Imagine if we took this out into a wider scale and looked at some bigger factors or decisions in our lives.
The new job for example. You've been feeling a bit bored, missing a challenge in your career and during the afternoon work dip you have been mulling over a career change. This has been going on for months now, such a NICE idea…Nothing more.
So, get out that paper and pen. There it is, on your desk waiting for you.
WHY? Big letters on the top of the page.
Let's take the 3 WHY questions I mentioned earlier:
WHY do I want this?
WHY will it be different if I do/have this?
WHY will it improve my life?
Start small – 'I'm bored in my job'. Then keep going, making this a little stronger – 'I am bored as I do not feel that I am using my skills to their full potential. I know I CAN DO MORE'.
Wow yes now we have a WHY! Feel more excited already?
So, next question, WHY will it be different? 'I'll be happier', come on. How about, 'I'll be awake again, challenged by my new environment and shaken into action!'
YES YES YES!
Now look at how this could affect other areas of your life, what will your new energy do to you?
WHY will it improve my life? 'When I have had an exciting day at work I will come home in the evening and share that happiness with my family, with my friends. Everyone around me will benefit from my new energy.'
Well, that definitely sounds like a WIN WIN situation! With this massive WHY behind you, making that Job application will be easy!
I've been working through this for myself recently. Having been in a self absorbed sabbatical for over 6 months, I really want to get active and make my business work. Everyday I sit a couple of hours at my laptop and attempt to get it together.
Then I thought, hold on.  I had a great job, earned loads of money and traveled to some crazy places. What was I thinking?
Then I remembered WHY. I had these floating in my thoughts for the last few years, I had just let them fade into the background.
Here goes:
WHY do I want this? I feel a need for Freedom – to make my own decisions and forge my own path. I want to set my own priorities for work and personal life.
WHY will it be different if I do/have this? I will have more time to spend with my family, something that I have missed in the last 10 years. As I will be organising myself, I will also be able to start working on my Bucket List and learn new skills.
WHY will it improve my life? Family. I know that without having a loving home environment I can never flourish in any other area. Spending more time with those I love will give me MASSIVE amounts of energy, helping me to open up to all kinds of new experiences.
There you have it, I wrote these on my board in the office – I see them everyday and have a constant reminder of my own motivation. Especially when I read the last one, a tear comes into my eye when I think of all the Love and Happiness I now have in my family.
Then no challenge is too big, no question too hard to answer!
WHY are you going to get out of bed today?
WHY are you going to take you next step to AWESOMENESS?
Please follow and like us: